About
Us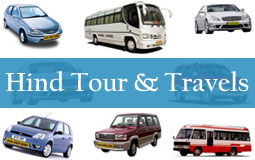 Hind Travels was established since 2007 due to our personalized care and attention to each and every guest that we have handlled over the years. This could not have been possible without the knowledge and experience of our staff who know the region, culture, language and people intimately.Ever since we came into existence in the field of Travel Industry; we have carved a niche in the top spot, as one of the leading car rental & leasing service provider at Bangalore. With a Steady growth and intelligent Tie-ups allover South & North India, we have expanded our heart to care for the needs of any traveler, from corporate to individual.
We offer not just a car but a complete travel solution, tailor-made to suit ground transportation needs. The rates are kept at a very economical level, while providing an uncomparable service level. And also, corporate tariff is reasonable and designed for a long lasting relationship. We work as one cohesive team from the smallest unit to the organization as a whole. We develop and retain leaders who continually raise the bar, provide direction, remove barriers and empower people to successfully accomplish goals in a simplified and systematic way.
We have maintained a caring and supportive work environment that fosters sharing of ideas, skills and resources and delivering the quality in flux situations is general expectations; which we have always kept it upto the mark.